The best Target Black Friday deals 2017
Target Black Friday deals for 2017 have officially kicked off in the US weeks before the official shopping day, which may lead you to think the retailer has some of the worst sales because everyone else has time to adjust their prices accordingly.
You'd be wrong, at least in some cases, though. Target consistently has some of the best Black Friday deals around, particularly when it comes to the iPhone, 4K TVs, and video games. Plus, Target typically offers plenty of sales weeks before Black Friday even begins, giving you lots more time to save. You'll find all of its deals on its dedicated Target Black Friday sales page.
During Black Friday 2016, Target was one of the only retailers offering a discount for the Apple TV, which means it could be the store to visit if you want to get your hands on the new Apple TV 4K at a cheaper price this year. Target also had great sales for the iPhone 7, iPad Pro 9.7 and the Apple Watch 1 last year, so there's a good chance it will offer a discount on products like the iPhone X, iPad Pro 12.9 and Apple Watch 3.
Target's Black Friday store hours last year actually began at 6pm on Thanksgiving Day, and the same will happen before the official Black Friday 2017 date of November 24 as well. Don't feel like rushing the door? Target also makes a great destination for Black Friday online sales as it offers free shipping on all orders regardless of size. 
If you're excitedly waiting for the Target Black Friday ad, which will likely arrive in early November, and want to know what deals to expect at Target during the holiday shopping season, keep reading for everything we know so far about Black Friday at the mega retailer. Plus, we've Target bargains you can take advantage of right now.
Target Black Friday deals quick links
Target Black Friday ad leaks 
Target popped the cork on the deals that it has lined up for Black Friday 2017. It has an online catalog of the hottest deals right here. Deals cover everything from bedding and vacuums to video games and drones. While the catalog will have the most information, you can read on to see our top picks for the most promising deals worth planning your Black Friday around.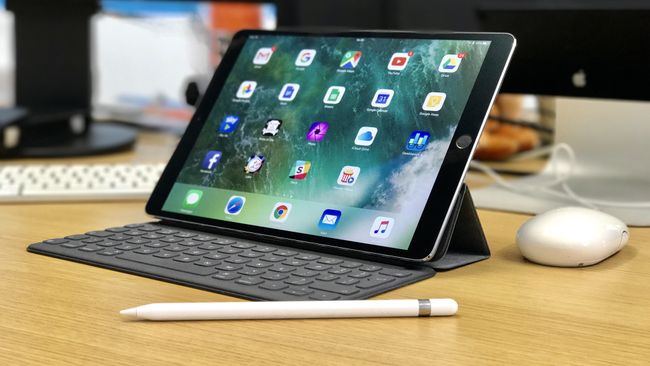 Target deals before Black Friday
Like many of its competitors, Target offers lots of ways to save throughout the year. You'll find all of Target's best deals listed in two places: the Target Weekly Ad and the Top Deals page. 
We suggest checking these pages often as deals are always coming and going. It's certainly a worthwhile endeavor as you can save up to $50 on smartwatches and find significant discounts on TVs, to name a few. 
Right now, there are a few noteworthy Black Friday Preview deals. Beats Studio 2 wireless headphones are $220 off, making them less than half their original price. Many boards games are 50% off their regular price.
There are a few other non-Black Friday deals available at Target right now that still rank among the best deals available: 
Apple iPad Pro 9.7-inch (Wi-Fi) for $449.99 (was $599.99) This is the same astounding price Target sold the iPad Pro for last year on Black Friday proper, and now you can pick it up for $150 off this very second. That's a savings of 25%.
LG 4K Ultra HD TV is $449.99 (regularly $549.99) If you're ready for the 4K revolution to begin at your home with a bang, you'd do well to pick up this huge display from LG. And at $100 off the normal retail price of $550, it's a huge bargain. 
Samsung Gear S3 smartwatch for $299.99 (was $349.99) In our review of the Samsung Gear S3, we called it "the best smartwatch for your Android phone." We also called it "brilliant," and we're pretty sure that picking it up for $50 off the regular retail price is a brilliant idea as well.  
Garmin Vívosmart 3 for $119.99 (list price of $139.99) Garmin's little fitness tracker looks simple, but it's packed with features such as rep counters, automatic activity tracking and smart notifications. Pick it up for $20 off the regular retail price. 
Expected Target Black Friday deals 
Target usually stands out on Black Friday for its impressive deals on Apple products, like the iPhone and iPad, as well as TVs and video game consoles. 
Target's Black Friday sales brochure shows that it's sticking to that formula for Black Friday 2017. Check out the hottest Target Black Friday deals below:
Xbox One X and PS4 Target Black Friday deals: During last year's Black Friday, Target had fantastic deals for the Xbox One S and PS4,  which means we'll likely see impressively priced bundles on Black Friday 2017 for the new PS4 Pro and the Xbox One X.  Target knows games and consoles are hugely popular purchases during the holidays, and it won't disappoint with its top-notch deals. While Target hasn't indicated deals on these beefier consoles, it has shown off major discounts of $80 for the Xbox One S and $100 for the PS4 Slim, along with $20 off controllers for the consoles.

Video Game Black Friday deals: Target will also have some killer discounts on the video games that go with Xbox and PS4. Some discounts are smaller, but Target is planning a notable 50% discount on major new titles Destiny 2, Shadow of War, South Park: The Fractured But Whole, and Wolfenstein II.

iPhone Target Black Friday deals: Target technically gave away the iPhone 7 and iPhone 7 Plus during Black Friday last year, as you could get them for free and get a $250 Target gift card so long as you signed up for a plan through Target. The Black Friday ad didn't include any mention of the iPhone X, but shoppers can get a free $350 Target gift card with purchase and activation of an iPhone 8 or 8 Plus

Apple Watch and iPad Target Black Friday deals:  Last year's $199 for an iPad mini 2 was the lowest price we've ever seen for an iPad, and even the 9.7-inch iPad Pro saw a massive price cut. This Black Friday, Target is cutting the 10.5-inch iPad Pro to $529 (regularly $649), the iPad 32GB to $249 (regularly $329). It's also cutting $70 off the price of Apple Watch Series 1, bringing the price to $179.

Galaxy S8 and Note 8 Black Friday Target deals: Apple isn't the only brand seeing huge discounts on its devices at Target this year. In fact, Target's deal on a new Galaxy S8, S8 Plus or Note 8 is even better than the one on an iPhone 8. Target is offering a free $300 gift card with the purchase and activation of any of the three phones. The 10.1-inch Samsung Galaxy Tab A is also on sale for $179 (originally $279) with a free $20 gift card.

Other electronic Black Friday Target deals: There's plenty more in the Target electronics department worth noting this Black Friday. The Fitbit Alta HR, Charge and Blaze are all $50 off. Smarthome devices are on sale, too, with Amazon Echo devices $20 to $50 off, Google Home $50 off, Google Home Mini $20 off with a free $10 gift card, $100 off a Roomba 614, and $50 off a 3rd-gen Nest Learning Thermostat. 

Movie Black Friday deals: Movie lovers can stock up on discounted DVDs and Blu-rays for the winter. Target's Black Friday 2017 deals include a variety of $4 and $6 DVDs and Blu-rays.

4K and HD TV Black Friday Target deals: Target's deals for 4KTVs weren't as impressive as its Apple and video game discounts last year, but there were still some great deals on the table. If you're dying to get caught up to speed with the latest craze in TV technology, Target has a variety of TVs to satisfy your appetite, including an incredibly affordable 43-inch 4K by Polaroid for $229.

Camera and drone Black Friday Target deals: Target has your hobbies in mind this Black Friday as well, with a huge $400 discount on Nikon D3400 camera bundle and $100 off the DJI Spark Mini Drone. The GoPro Hero5 Black is $50 off with a $50 gift ard thrown in, and the GoPro Hero5 Sessions is $90 off.
More Target Black Friday deals to come
Target doesn't just specialize in electronics, of course, so there will be a lot of other products on sale throughout the week of Black Friday 2017. 
That wide variety of inventory, which includes appliances, home goods, and personal care products, also means we'll see some super deals that go far beyond what we've listed here. It's all a matter of checking Target's Black Friday page to see all the sales on offer.
One last thing: because Target's Black Friday event technically begins on Thanksgiving Day, that's usually the best day to drop in and nab all the discounted items. At 6pm, it's late in the day, so you might not feel too bad about skipping out on the family in order to take advantage of a bargain you may not see for a year, especially if it means you can bring back some games to play with your family. 
If you're obligated to play a few rounds of Scrabble and miss the best Black Friday deals, there's always Cyber Monday to look forward to.
Source: http://www.techradar.com/news/target-black-friday-deals-2017
Powered by WPeMatico